Versatile and Unstoppable: 2023 LASER World of PHOTONICS SOUTH CHINA Ends with Great Success
2023年11月16日

On November 1, the South China International Advanced Electronics, Automation and Laser Expo (LEAP Expo) was successfully held at Shenzhen World Exhibition & Convention Center (Bao'an New Hall).

During the three-day expo, affiliated exhibitions including electronica South China, productronica South China, Laser World of PHOTONICS SOUTH CHINA, and concurrent exhibitions: VisionChina (ShenZhen), provided professional visitors and buyers with abundant opportunities to immerse themselves in and experience up close the charm and achievements brought about by electronics intelligent manufacturing.


Big Data of 2023 LEAP Expo

90,00m2 of exhibition space
944 exhibitors and brands
Over 35,000 visitors

The exhibition scope covers semiconductors, embedded systems, sensors, power supplies, passive components, connectors, PCBs, intelligent networking & new energy vehicles, automation and motion control, test and measurement, surface mount, dispensing and soldering & chemical materials, wiring harness processing, semiconductor packaging and manufacturing, smart factories, laser components and laser equipment, advanced intelligent equipment and automation, advanced light source and laser devices, laser processing control and supporting systems, industrial intelligent inspection and quality control technology, precision optics, laser processing services, 3D printing/additive manufacturing technology, core components and parts of machine vision products, intelligent vision equipment, etc. It promotes the innovation and integration of electronic intelligent manufacturing industry, and provides one-stop purchasing experience to our professional visitors.




Stephen Lu, COO of Messe Muenchen Shanghai Co., Ltd., stated,"The South China region is an important area for rapid economic development in China. With the increasing demand from users, there has been a surge in the development of new technologies and products, driving the steady progress of intelligent manufacturing in China. LASER World of PHOTONICS SOUTH CHINA not only showcased laser intelligent manufacturing technologies and equipment, laser devices, and high-quality laser processing services but also covered continuous research on hot topics and trends in laser applications. In addition to traditional application industries such as semiconductors and electronics, the new energy vehicle industry is also a key application area for laser technology. The exhibition fostered close collaboration between the new energy industry and laser companies, bringing forth innovative laser technologies and solutions to meet the growing application demands of the market. Its primary focus was to advance the rapid development of new energy vehicles which are at the forefront of intelligent manufacturing."

Riding the New Wave toward the Promising Future of Laser Intelligent Manufacturing
Shenzhen has always been renowned for its innovation and high-tech industries. As China's hub for scientific and technological innovation, the city is vigorously developing the "20+8" industry cluster, with advanced manufacturing as its core. Numerous technology startups have established their presence in this city, contributing to its thriving ecosystem. While Shenzhen is promoting new industrialization, the new energy vehicle industry has become one of the city's most prominent economic indicators. Laser technology, as an advanced tool for processing, plays an indispensable role in this context. In Bao'an District, Shenzhen, there are 221 large-scale enterprises within the laser and additive manufacturing industry cluster. In the future, the development of Shenzhen Laser Valley will be further accelerated. Efforts will be made to actively provide proactive, list-based, and practical enterprise services, introduce and cultivate high-quality enterprises, and support the formation and consolidation of laser industry chains and clusters.





This year, LASER World of PHOTONICS SOUTH CHINA continued to choose Shenzhen as the exhibition base. It leveraged the core resources of intelligent manufacturing in South China, with a focus on hot topics, and connected intelligent manufacturing equipment with terminal applications such as new energy, consumer electronics, medical care, semiconductors, 5G technology, automobiles, and integrated circuits, aiming to provide personalized products and industry solutions for potential laser technology users in South China.

Junhui An, Sales Director of Sales Center (South China) of Han's Laser delivered his opinion: "The laser industry in South China exhibits vibrant activity, with a wide application scope in areas such as laser cutting, welding, 3C electronics, new energy, and power batteries. The LASER World of PHOTONICS SOUTH CHINA provides an ideal platform for laser companies to engage in healthy competition, drive technological progress, and meet the demands of new applications."

Ming Jiang, Director of Sales of Marketing Center of Maxphotonics Co., Ltd.said:"LASER World of PHOTONICS SOUTH CHINA has revealed the continuous expansion of laser technology's application scope. Laser welding, in particular, is experiencing rapid development, with customers increasingly demanding higher technical specs and demands, services, and performance."

Ruiding Zhou, Product Manager of Jiangsu BWT commented:"Participation in LASER World of PHOTONICS SOUTH CHINA has facilitated valuable exchanges with industry experts, so we can remain informed about market dynamics, technology trends, and future development directions. Such knowledge enables us to create new technology and products, deliver value, and provide exceptional service to our customers."

Awakening the Manufacturing Gene and Jointly Creating an Innovation Highland
The increasing acceptance of new energy vehicles by Chinese consumers has led to a continuous growth in demand in the new energy vehicle market. Riding the new energy wave, the domestic laser industry has once again made a leap forward. Laser technology plays an irreplaceable role in various stages of vehicle manufacturing, including body-in-white manufacturing, lithium-ion battery production, motor manufacturing, and other component manufacturing. In this year's LASER World of PHOTONICS SOUTH CHINA, "Laser+" New Energy and New Energy Vehicles Pavilion was created. Shenzhen Gongda Laser Co., Ltd., United Winners Laser Co., Ltd., Shanghai Feibo Laser Technologies Co., Ltd., EVERBRIGHT, and Key & Core Technology Innovation Institute of the Greater Bay Area took turns introducing to the on-site audience the application of laser products in areas such as the manufacturing of power batteries, key components of E-vehicles, and automotive electronics transparent plastic processing. They showcased the latest trends, technologies, and solutions in laser intelligent manufacturing and inspection in the field of new energy and new energy vehicles, aiming to promote the green and high-quality long-term development of the new energy manufacturing industry.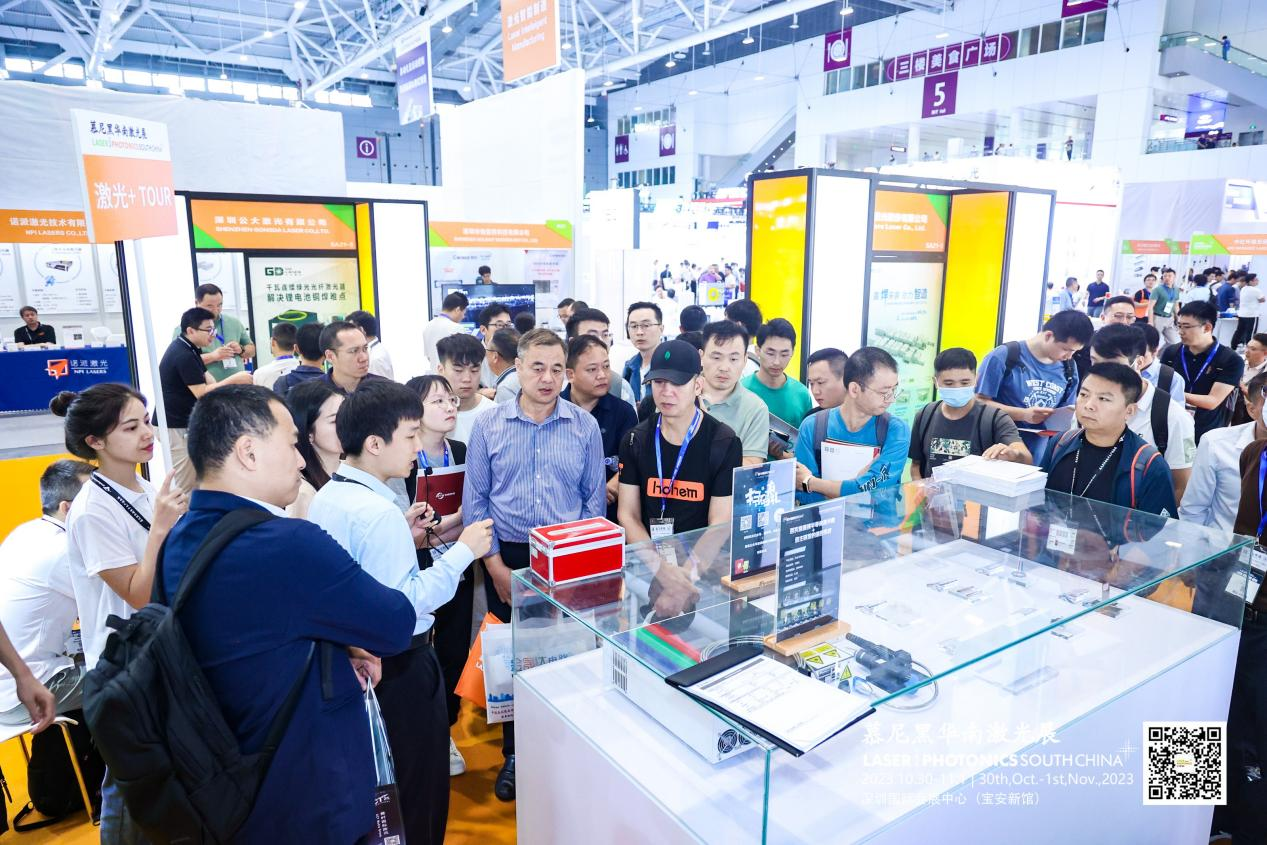 Zeal for Talent: Young Optoelectronic Talent Showing Great Potential The progress of technology relies on the constant injection of young talent. To provide optoelectronic enterprises with high-quality technical talent, attract young professionals, and drive technological innovation and transformation in the optoelectronic industry, LASER World of PHOTONICS SOUTH CHINA set up an on-site "Optoelectronic Career Center" where the human resources teams of exhibitors could have in-depth one-on-one communication with fresh graduates, benefiting the enterprises and job seekers alike.

Binea Zhao, Sales Director (Middle East and Africa) of Wuhan Raycus Fiber Laser Technology Co., Ltd. said:"We express our sincere gratitude to the organizers for establishing such a platform, allowing Chinese laser industry peers to engage in fruitful collaboration and mutual learning."

Yuandong Lan, President of Far East Excellence said:"LASER World of PHOTONICS SOUTH CHINA is an exhibition that focuses on the development of industrial intelligent manufacturing. We exhibit the latest technological advancements, and it is a great pleasure to see a lot of customers at our booth for business consultations. We will participate in the future with even better solutions to the industry."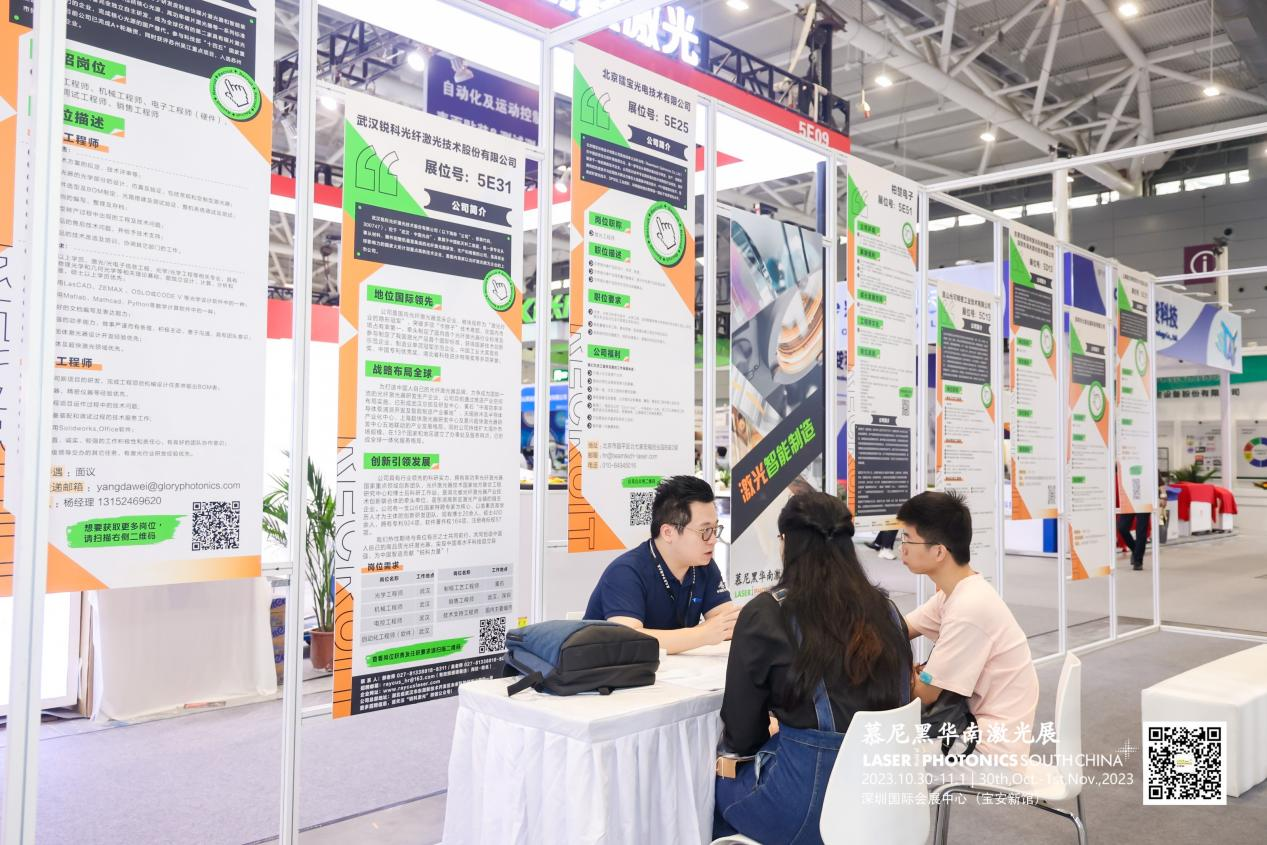 Start-ups with Great Achievements Pushing for Further Progress
In order to encourage and support start-ups in the laser industry and provide them with more opportunities for market exposure and promotion, LASER World of PHOTONICS SOUTH CHINA continued to set up a dedicated start-ups zone, bringing together 13 start-ups including Shenzhen Shunyuan Optical Co., Ltd., Xi'an Mingyao Photoacoustic Information Technology Co., Ltd., Mid Infrared Laser Institute (Jiangsu) Co., Ltd., Shanxi Dawei Laser Technology Co., Ltd., Shenzhen Golight Technology Co., Ltd., Glory Photonics Technology Co., Ltd., Henan UM Optics Ltd., Anhui Guangdun Technology Co., Ltd, Wissen Instruments (Shanghai) Ltd., Guangku Intelligent Technology (Nanyang) Co.,Ltd., Inspiration Optics Co., Ltd., Shenzhen Guangyuan Industry Co., Ltd., and Shenzhen Tuancheng Technology Co., Ltd. These enterprises, despite being in the start-up stage, are not short of talent. Many of them have already acquired independent intellectual property rights and multiple invention patents. They have been continuously overcoming challenges, dedicated to optimizing and developing new products based on user demand. These enterprises exhibited their respective expertise in various fields such as laser marking, medical aesthetics, laser 3D printing, laser cleaning, laser welding, precision cutting, ultra-large format applications, scientific research, military applications, national defense, electronic components, mechanical parts, and industrial sectors.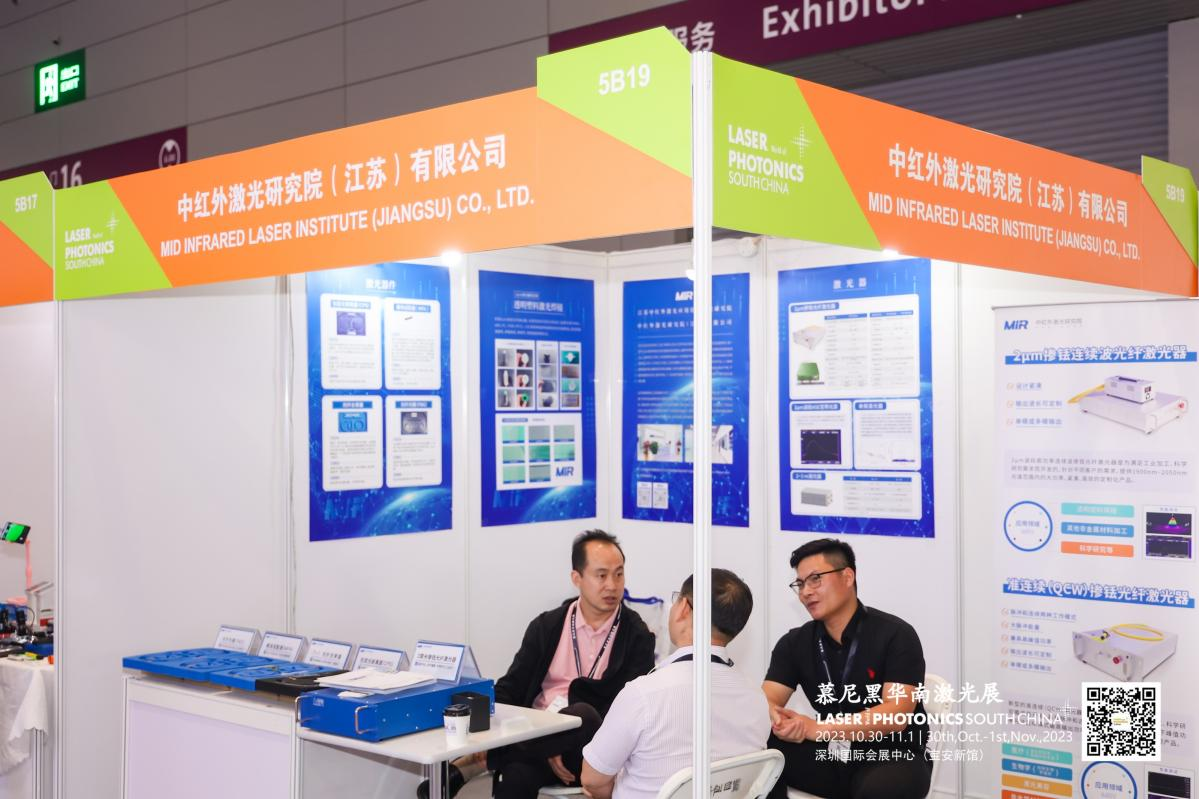 Buyer Groups in Multiple Sectors Showing Strong Procurement Demand
This year's LASER World of PHOTONICS SOUTH CHINA established close cooperation with industry associations and organizations in the laser application field. Buyer groups from key laser application industries such as electronics, healthcare, intelligent machinery, intelligent equipment, and power batteries attended the exhibition by invitation.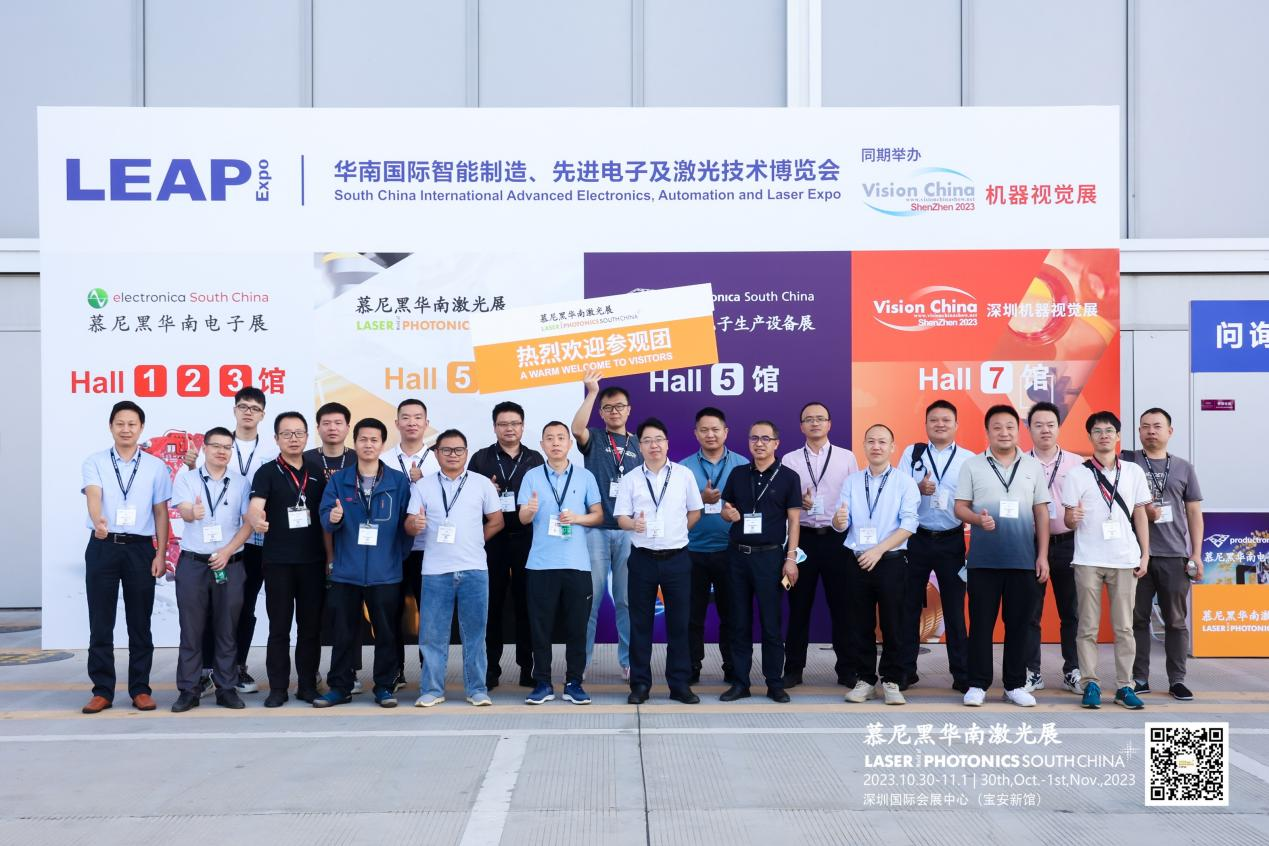 Analyzing Laser Hotspots and Discussing Laser Intelligent Manufacturing to Empower the Industry
The exhibition also coincides with the South China International Photonics Intelligent Manufacturing and Application Technology Conference, which includes two events: "Laser Technologies Innovations Continue to Enable Intelligent Manufacturing" and "New Energy Vehicle Laser 'Intelligent' Manufacturing Technology Forum". The conference cordially invited scholars, technical experts, and key representatives from universities, research institutes, and enterprises in the fields of lasers, optoelectronics, and high-end equipment to analyze core technologies, interpret optoelectronic technology and intelligent manufacturing technology, and discuss new trends in global laser and intelligent equipment development based on the latest research findings and successful application cases. The topics included but were not limited to: Research on the development of laser welding technology and the application in automotive manufacturing; Kilowatt-level continuous green lasers contributing to the upgrading of power battery manufacturing; Blue lasers and the application in new energy non-ferrous metal welding; The application and quality control of aluminum laser welding for the bodies of brand-new vehicle models; The application of laser technology in lithium battery manufacturing; Real-time monitoring technology for laser welding penetration depth and its application; Laser cleaning technology and its application in automotive manufacturing.





The three-day exhibition has come to a successful conclusion. LASER World of PHOTONICS SOUTH CHINA bids farewell with gratitude and reluctance to all exhibitors, visitors, industry partners, and media friends. The success of the exhibition is not without your support.

In the future, LASER World of PHOTONICS SOUTH CHINA will continue to establish close cooperation and strong ties with upstream and downstream enterprises in the industry chain, delve deeper into the immense potential and limitless possibilities of lasers in intelligent manufacturing, and help laser enterprises to shine even brighter and achieve greater success in the emerging technology industries. It aims to contribute to the transformation and upgrading of China's manufacturing industry.


Coming next
An international grand event of laser and optoelectronic industries
March 20-22, 2024
Shanghai New International Expo Centre
LASER World of PHOTONICS CHINA awaits you!


Messe München
Messe München is one of the leading exhibition organizers worldwide with more than 50 of its own trade shows for capital goods, consumer goods and new technologies. Every year, a total of over 50,000 exhibitors and around three million visitors take part in more than 200 events at the exhibition center in Munich, at the ICM – Internationales Congress Center München, the Conference Center Nord and the MOC Veranstaltungscenter München as well as abroad. Together with its subsidiary companies, Messe München organizes trade shows in China, India, Brazil, South Africa and Turkey. With a network of associated companies in Europe, Asia, Africa and South America as well as around 70 representations abroad for over 100 countries, Messe München has a global presence.

Further information: https://messe-muenchen.de/en/